This post brought to you by Gro-ables. All opinions are 100% mine.
I've written about gardening a lot. And I have a bundle of seeds that are already sprouting. (Our frost-free date is still painfully far away.)
Four years ago when we started our own garden,  it was overwhelming. I read books, I followed blogs, I talked to experts.
And when I decided to start seeds in our sunny window and our experience was shared in the local paper, the experts countered that I would probably be disappointed. 
I wasn't. It wasn't perfect and there was some learning involved, but we had some great plants from some of those seeds. Did everything work? No. But I really loved the process. And four years later, I still get giddy when I see green sprouts poking out from the soil.
There is something magical about it. And I'm always learning something new.
Don't listen to the experts. You can grow plants from seeds.
And that's why I always try to encourage others to start plants from seeds. You don't have to get crazy and plant flats and flats of seeds. But the process of starting something from a tiny seed is totally worth the effort.
I get lots of emails and comments about gardening and how people would love to try it "next year" or "someday." That's why I'm excited to try the new Miracle Grow Gro-ables.
Because I want everyone to start a garden this year. As in, right now. If you want to grow your own veggies and herbs and if you've ever made an excuse about why you can't, these are for you.
About Gro-ables.
Gro-ables help take the guesswork out of gardening and starting plants from seeds. It's a brand new product from Miracle-Gro – a pre-packaged seed pod that makes it simple to grow your own herbs and veggies from seed.
It's designed for those who are new to gardening, but have always wanted to try growing our own food. The pods are also guaranteed to grow (when used as directed). And at only $1.29-$1.49 per pod, it's really affordable.
Give me my dill.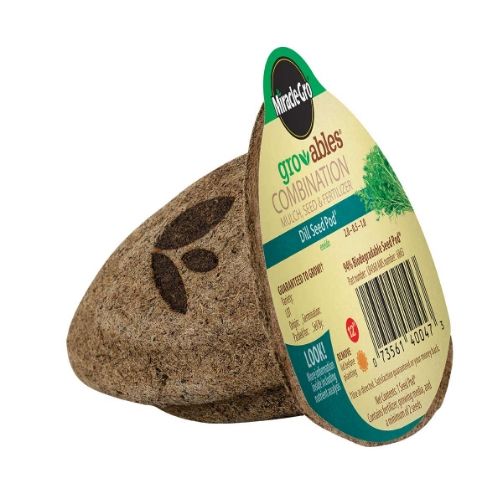 I'll be growing dill from the handy little pods this year. This is a plant I've never had luck with in the past and I'm bound and determined this year.
I like having dill on hand to season fish and chicken, and also for dill pickles and cucumber dill dip 
If you could choose to grow any vegetable or herb in your backyard, what would it be?
Did you like this post?
We'd love to send you more inspiration and encouragement for your home. When you sign up below, we'll send you our free guide to save thousands on your next home project. Because your home shouldn't own you.