There's always a favorite – the favorite element of a party. For Henry's bash, it was the ONE marquis letters. Not only did they turn out better than I anticipated, everyone went crazy over them and no one could believe I did them myself. Now, I'll share how I made them and hopefully help you make them even better.
When I was sharing the type of party I wanted with Shannon, we both started looking for inspiration and shared what we loved through a secret Pinterest board. (Which, by the way, is the bomb.)
When I came upon this image from Restoration Hardware, I stopped in my tracks.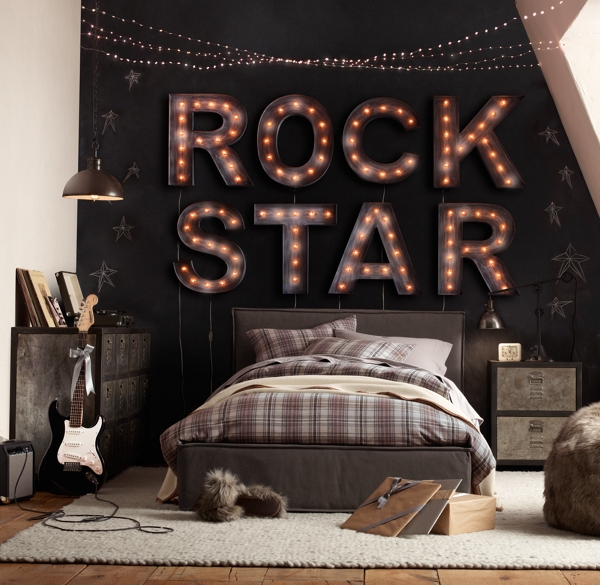 I actually labeled this picture "Overkill. Or not?" Sort of joking, because it may be a wee bit over the top and where would I find a marquis sign? No seriously, where could I find one?
But because Shannon gets me, she totally put it in the plan and then shared an online tutorial for a mini marquis sign at Oh Happy Day so I could make it happen.
However, I knew that this tutorial would NOT work for me since it requires a lot of templates and cutting and glueing and time. And the truth is that I have pretty much no patience, zero extra time, and am not enough of a perfectionist for that. (I know you don't believe that I'm not a perfectionist, but it's true. Ask Michelle, she'll tell you. I prefer to do a lot of things imperfectly instead of stressing about one tiny little perfect thing. I'm all about quantity – not quality. Not many people admit to that, right?)
So, I came up with another way. Which I'm sure has been done before and blogged about, but I refuse to look on Pinterest and instead continue to believe I'm a GENIUS.
So, here's how I made the marquis letters at Henry's party, in case you, too, are crazy and a glutton for punishment. This really did end up being my favorite part of the party. So, it was worth the minor electrocution, cut finger and loss of sanity.
Don't tell me I didn't warn you.
(But seriously, I'll tell you what I did and then what I'd do differently next time so you don't make my mistakes.)
What you need:
Paper mâché letters
A sharp knife
Spray paint
Screwdriver
Globe lights (I bought mine four years ago at Big Lots but I've seen them at Target and Kohls, too.)
1. Buy your letters of choice in paper mache.
This was actually the only thing i had to purchase for this project. So I bought 12 inch letters at Joann's for this project. They were 50 percent off so I didn't spend much.
2. Cut the front off the letters and sand edges.
Using a sharp knife, cut along the edge of the front letter. This will mean that you'll be left with the sides and back of the letter. The paper mâché letters are fills with more paper to keep them from falling in. Just remove that paper when you are finished.
Depending on the cutting job, you may have some jagged edges. Just sand it lightly to get a smoother finish on the edges. Wipe down.
3. Paint the letters to your liking.
I wanted mine to look like "metal," which was done very scientifically by starting with blqck spray paint and then followed with oil-rubbed-bronze and metallic silver spray paint I had leftover in the garage.
Surprisingly, it turned out really similar toy an old metal finish. I had planned to buff the edge with black but it was unnecessary.
4. Poke the holes for your lightbulbs.
I debated the best way to do this and ended up simply using a screwdriver. Since the letter is just cardboard, it was easy to poke through.
And do you even have to ask? Of course I didn't measure between the holes. I just eyeballed it.
5. CHECK THE LIGHTBULBS TO ENSURE THEY WORK.
I swear I did this, but they still ended up not working when I had them all in. Blasted.
Just double check because you'll be mad if your lights don't work.
6. Add the bulbs through the back.
The type of lights you have will make this step vary. Mine were christmas-style lights on the back with a glass dome clipped to the front. So I started by pushing the lights through the back and then clipping the glass dome to the light through the front. (See step 8.)
This process was tedious because I didn't want to glue them so I could reuse the lights. I think if I were doing this again, I'd actually glue the domes to the front because I broke a LOT of the domes in the process.
If you are buying lights for the project, try to find lights where the dome and light are the entire bulb – like these. I think they will make the process simpler because you can just glue the dome bulb to the front.
7. Tape down the cords to the back with duct tape.
Since I was trying to go glue-less, I tried several ways to keep the cords hidden and the lights in place.
The best option was silver duct tape. It matched the color of the letters and kept the many cords hidden on the back. It also kept the lights in the holes. So just use the duct tape to cover all the cords and attach to the back of the letters.
8. Add the glass domes to the front.
Then I added those glass domes. If you are smarter than me and plan to use them longer term, you'll glue them in.
9. Plug in and enjoy.
Bam. You have awesome marquis lit letters for your home or party. All my friends and family raved about these and they really played into the Southern Blues party theme.
What do you think of this little DIY?
Did you like this post?
We'd love to send you more inspiration and encouragement for your home. When you sign up below, we'll send you our free guide to save thousands on your next home project. Because your home shouldn't own you.