It's been a bit more than 2 weeks since the Nook swept into my life. And it couldn't have happened a moment too soon.
Several of you mentioned that you were also considering buying an e-reader, so I thought I'd give you a run-down of what I think of the Nook, two weeks in.
In short:
I love it.
In more length:
I love it.
I really don't know what I did before I had it. It's so darn convenient. I received the Nook at the perfect time because Ryan is out of town and I tend to read a bit more when he's traveling.
Since receiving the Nook, I've read five books:
The Girl with the Dragon Tattoo
Stuck in the Middle
Listen
The Girl who Played with Fire
32 Candles
On 'the feel':
5 of 5
How many of you have thought: "I like the smell/feel/look of a real book! I'll miss that!" 
I have not missed holding an 'actual book' at all since reading on the Nook. It's actually much more convenient than a paperback because I can hold it with one hand and click through the pages with ease. (Wow! How lazy am I to act as though reading a 'real book' is such a chore?) But it is actually lighter than most of the books I read in hardback. Very comfortable to sit on the couch with the pugs or laying in bed reading.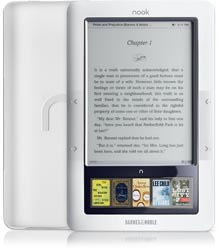 (via B&N)
On the view:
5 of 5
I have the
original Nook
with the e-ink screen. I was skeptical of those who claim that it reads like a real book, but the print is truly the same. The text is not hard on my eyes at all. I'm used to being on a computer a lot during the day and evening, and the Nook actually seems restful to my eyes.
Additionally, I think it's really handy that I can adjust the text size as needed. Usually I use the 'medium' text size. But, when I'm at the gym, I usually up the size so I can easily see it while working out. This is really nice for me.
As an aside, a device with e-ink cannot be read in the dark. You will need a book light to do so. This hasn't been an issue for me, but it's worth noting. I haven't read the book outside because it's freezing cold, but it is supposed to be possible. I think this is a definitely plus over the e-readers with LCD (computer screens). I'll definitely be trying it out when it gets warmer.
There is a color LCD screen along the bottom of the Nook. This is how you can navigate to other features. It disappears when you are reading which is nice.
On ease of use:
4 of 5
The interface of the Nook is really intuitive. Within a few minutes, I could easily find how to connect to the Internet, download books and organize my library. Super simple and quick. If you are relatively computer literate, this will be cake for you.
It's easy to get into a book and to click through. The only downfall, in my opinion, is that the e-ink screen is not touchscreen. In the age of PDAs, we're all used to flipping the page on the screen. The arrows to turn the page just took some getting used to for me.
On books:
4 of 5
I haven't had any problem finding the books I want on the Barnes & Noble website. So far, I've found the book prices reasonable, when compared with the paperback and those on other sites (namely, Amazon). With that said, I didn't to buy many books before receiving this device – I was a library gal. So, I am definitely spending more on books overall because I'm paying something. So far, I have been using a gift card, so I haven't noticed the effect.
I've also made a point to check out the Free Friday Book on Amazon. A different book is free each week. It's definitely a neat promotion, but it's not always a book I'd be interested in reading.
I love how easy it is to download a book on the Nook. It can literally take 10 seconds from searching to reading if you are in a wireless zone, which I usually am. This is really cool. 
And I love that I can hold up to 1,500 books on this device and 'shelve' them to organize. It's just really cool, in my opinion. I even downloaded a cook book and a travel book. How cool is it that I have access to those books at any time?
With all that said, I really wanted a Nook because the device allows the user to download books from sources outside Barnes & Noble. So far, I've not tried this because my local library has a TERRIBLE selection of e-books. Seriously couldn't find a single book I wanted to read. However, I hope that will change as more people demand e-books. 
It's a huge advantage, in my opinion, that I can get books from the library, from Google Books and from other sources as PDF or other formats . That alone would make me choose Nook over Kindle.
On sharing:
4 of 5
Something that you may read is that Barnes & Noble allows users to 'share' books on devices. This is a really cool feature where you can lend the book to another device for a set period of time, but I've been disappointed that most of the books I've read don't have the capability to be shared. So, only some books allow this. Kind of a bummer, but it's still a neat feature and I plan to use it with friends who have Nooks. (Anyone wanna be sharing buddies?)
On other uses:
3 of 5
You can easily hop on the Internet and check out Google Reader, email, Good Reads and more… it's pretty handy. But I've barely used it. Just like most portable devices, the screen isn't perfect for Internet browsing. Additionally, the non-touch screen makes the screen a bit cumbersome to use. Plus, the screen is black and white which isn't great for Internet viewing. I think the ability to quickly get on Good Reads and update my reading list is the handiest use for me. 
There are also a few games that my father-in-law tried out for me. Research purposes. 😉 He thought they were cool. I think mine came with Sodoku and Chess.
If you are looking for a device to browse the Internet regularly on the go and use apps… I'd probably recommend the
Nook Color
or even the iPad. If you are looking for a device primarily for reading, I'd go with the original Nook.
On battery life:
5 of 5
The word on the street is that the original Nook has a battery life of 10 days. For me, it's been more like 3-4 days before a charge. However, I've been leaving the wireless Internet connected. When I've turned it to airplane mode, the charge lasts considerably longer. Regardless, the charge is much better than any other device I've owned so I'm pleased.
In all:
5 of 5
When I was looking at buying an e-reader, I was leaning towards the Nook Color. I thought it'd be great to surf the Internet and such. Since winning the original version, I am glad I ended up with this version. I wanted one for the primary use of reading. I think the e-ink is great for that purpose. It's a good fit for me.
The value of this device is in how much you'll use it. I read a lot, so it's really valuable. The ease of downloading new books and reading at any place or time. It'll also be great for traveling. I'm notorious for bringing a handful of heavy books on a trip. No more!
If you are looking for an e-reader, I would recommend the Nook without any hesitation. I hope you'll love it as much as I do.
So, weigh in – Do you have an e-reader? Do you want one?
Did you like this post?
We'd love to send you more inspiration and encouragement for your home. When you sign up below, we'll send you our free guide to save thousands on your next home project. Because your home shouldn't own you.