Thanks again to Erin at His and Hers for asking me to be a cheerleader for this month's Random Acts of Craftiness challenge. If you remember, this month's challenge was to use items from the hardware store.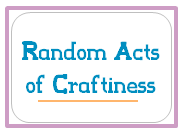 And now, I'm going to get my rah-rah on and choose a few of my other favorite projects. All of the links really brought their A-game, so you all get a huge "Go Team!" from this gal.
Give me a D.
Give me a I.
Give me a Y.
What's that spell? DIY!
A pendant shade with hardware accents, via Our Pinteresting Family.
Which one is your favorite?
Did you like this post?
We'd love to send you more inspiration and encouragement for your home. When you sign up below, we'll send you our free guide to save thousands on your next home project. Because your home shouldn't own you.