Back in April, I spotted the curtains of my dreams at Crate & Barrel. I was with Jen and I told her that I was buying them for the dining room. Until I checked the price. $149 for each panel. And I needed four.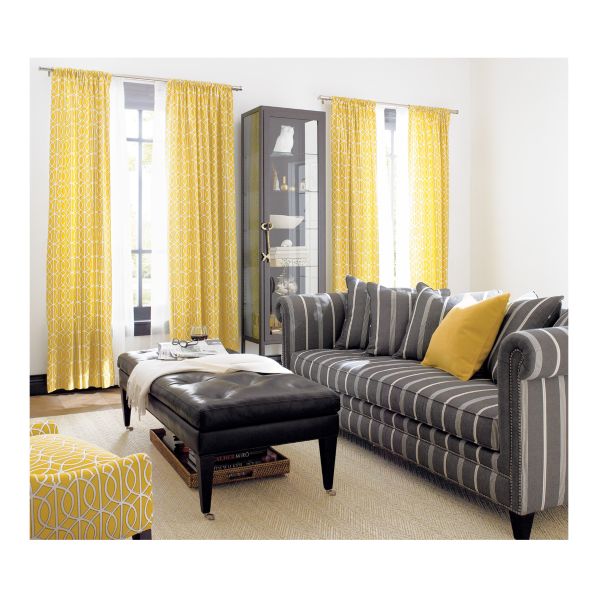 Ouch.
I backed away from the curtains.
But I really did love them. So, I did some searching and found the same Dwell Studio Bella Citrine fabric online by the yard. It was actually out-of-stock for months. Then, it was back in stock and I jumped. It was $15.98/yard when I purchased it. And I had a coupon, so I saved about 25 percent. I ended up getting 13 yards of fabric for $155.80. (And it's free shipping at fabric.com and free return shipping if you don't like it, which is a plus.)
And okay, this is way more than I've ever spent on fabric or curtains. But, when you consider that my lusted-after drapes in the same fabric from Crate & Barrel are $149 for each panel in the long length, it's not a terrible deal at all.
Our curtain rods are around 104 inches from the ground, so I cut each panel to 9 feet  and then hemmed it up (3 yards of fabric). The width ended up being around 52 inches for each panel after hemming. I moved all the furniture to the side of the dining room so I could spread out the fabric on the floor and cut it.
After lots of ironing and hemming, it was time to make the pocket. I used ribbon tabs for the top, which is a really simple way to get a more polished look. If you are interested, check out the tutorials by Meredith at Welcome to Heardmont and Chic Little House.
I waited to hem the bottoms until I had them up because our old house floors are totally uneven and I wanted the curtain to lay just above the floor. I didn't really want them dragging on the floor because I like to steam mop under them. Anyway, since they aren't the same length to the floor, it means that they aren't all exactly the same length. But they are all above the floor. I just pinned them where I wanted them, ironed and hemmed.
And, I am so lazy that I ironed and hemmed the panels while they were still hanging on the curtain rods.
I'm sure this lazy way could have gone horribly wrong, but it didn't.
Do you like the fabric as much as I do? I just love it. And it has such wonderful texture – almost nubby like linen. Perfect for drapes.
The two panels took a little longer than anticipated, so I am working on finishing the other two this to put them up and clean up the room this weekend.
But I just couldn't wait to share my progress so far. This room is really starting to come together.
What do you think? Is my penny-pincher version a contender?
Did you like this post?
We'd love to send you more inspiration and encouragement for your home. When you sign up below, we'll send you our free guide to save thousands on your next home project. Because your home shouldn't own you.