Well, I finally want to share my closet organization. The closet in question was originally our closet, while the upstairs was being completed.
Once we moved upstairs, this room became our office/dog's room.


Then, I was able to bring all my craft supplies upstairs…
YIPPEE!
Now, I can have all my crafting supplies at arms-length. And, I never have to go to the basement. =)
But, I had to get everything organized so it would be useful. So, I bought a bunch of dollar photo boxes at Michael's. I separated everything by task and….. TA DA!


The lowest shelf has all of our computer stuff and discs.
The second shelf has all the sewing supplies – thread, fabrics (in the bag), etc.
The third shelf has all my photos that are waiting to be scrapbooked (in the box) and punches


The fourth shelf has frequently-used items like glue, markers, and ribbon.
I busted out the labelmaker (best purchase ever) and indicated what was in all the boxes and drawers (markers, glue, ribbon, glue gun, etc. (I also have one empty for growth).


The fifth shelf has all my binders (both empty and full of design ideas, finances, etc.)
The top shelf has extra things that I don't need often (including wedding items).


On the left is our filing cabinet for files, a storage container for bows and gift bags and the top crate holds scrapbooking papers. There are also still hanging rods for clothing storage on the far left.
It may not be perfect,
ala my dream craft room via KevinandAmanda.com,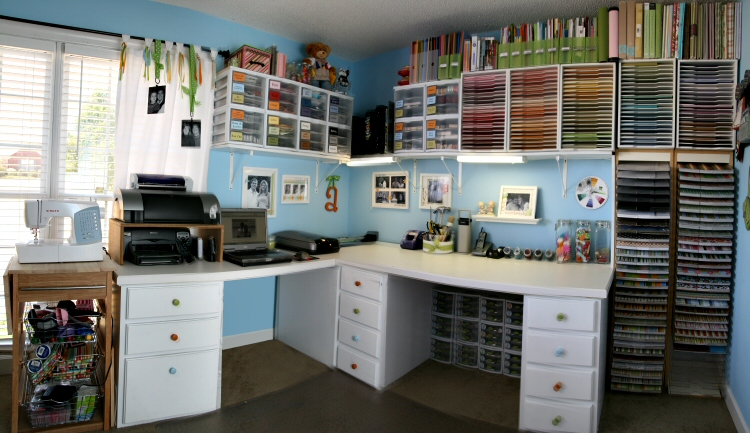 but I'm thrilled that everything is in one place and easily accessible.
Now, I just have to get working on other closets and nooks. Mission: Organization
So, what do you think?

Did you like this post?
We'd love to send you more inspiration and encouragement for your home. When you sign up below, we'll send you our free guide to save thousands on your next home project. Because your home shouldn't own you.