When I was asked to be a cheerleader for the Random Acts of Craftiness Link Party at His and Hers, I was thrilled! I'll be sharing my favorite projects next week.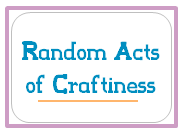 But, I also wanted to take the challenge myself and make a craft. The challenge was to use items from the hardware store. I had several ideas, but this month truly got away from me. Between work and Henry and Halloween, I feel like yesterday was Oct. 1.
But, I was able to actually pull something together – just in the knick of time. I knew that I wanted to solve an issue that has been bugging me in the kitchen. The lack of sink organization.
There's the different soaps and brushes and IT WAS DRIVING ME TO DRINK! (Not a far drive.) I felt like it took away from the lovely sink and faucet. So, off I went to my favorite local hardware store, where I started wandering with Henry in a cart. The owner asked me four times if I needed help. I think I was making him nervous wandering in the electrical section.
Eventually, he came over one last time and I told him what I was trying to do. I ended up heading to the register with two cake pans, coupling and epoxy to attach them. (And the owner of my local True Value wants me to make sure that we all know that attaching a coupling to the cake pans makes it very NOT FOOD SAFE. Okay?)
I liked the direction it was going. But, then, I spotted a bathroom storage canister and realized that would work 100 times better. So, I added that to my cart and high-tailed it out of there.
I wanted something that elevated and contained everything I needed near the sink. So, I tried a few configurations of the cake pans and coupling and storage canister and ended up preferring the look of the larger cake pan with the canister.
So, essentially – this was the easiest project ever. I just used the epoxy to attach the canister (without the lid) to the cake pan. (I did it outside, because that stuff is pretty potent.) The epoxy instructions said it took 10 minutes to "set." So, I put a heavy casserole dish on it for that 10 minutes. And I used that time to clean the sink. Which was pretty badly needed.
10 minutes later, I had a really cute little pedestal that held soap and a washcloth and brush in a mason jar.
The original plan was to epoxy the mason jar to the pedestal, but I like to be able to throw the jar in the dishwasher so I nixxed that.


Doesn't it look better?
What do you think of my simple little craft? It solved a little annoyance, so I'm thrilled. And now I have a clean sink, so I think that makes me a crafting mastermind.
You still have a little time to try a craft, too. Check out all the Acts of Craftiness at His and Hers, where I'm linking up. And make sure to come back next week when I pick a few other awesome projects!